Giant clam aquaculture is more than just science!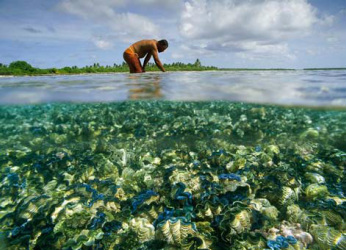 Natural giant clam beds in Phoenix island.
Over the last 40 years there have been hundreds of Scientists and several Government sponsored research projects involved, working in many countries and publishing thousands of papers about all aspects of Giant Clam farming.Despite that still on-going enormous scientific effort, expertise & data, there is no large commercial giant clam farming operation anywhere in the world!
Presently giant clams have been and are farmed only for the limited aquarium trade; why has the huge demand for the Asian sea-food industry never been addressed? Aquaculture is supposed to enhance the production of marine species by artificially protecting them against harm from any origin; Nature is showing that some giant clams are still reproducing in great numbers on remote islands and atolls in the Pacific. Why is farming of Giant Clams in hatcheries still unable to duplicate what Nature has done for as long as clams have existed?
http://icesjms.oxfordjournals.org/content/63/9/1573.full.pdf
= millions of T. Maxima on 3 French Polynesian island.
Our experiences have shown that giant clam farming is much more an "art" than a "science" because conditions change with every location and season. So far giant clam hatcheries have used out-dated intensive techniques developed decades ago by the early research pioneers. TMDC is offering herewith the opportunity to any interested private or public organisation to acquire the latest specifically designed farming technology adapted to practical large scale commercial aquaculture of Giant Clams destined to the almost limitless Asian sea-food industry.
TMDC's new breakthrough techniques do allow large numbers (millions) of juvenile giant clam seeds to be produced at commercially viable costs similar to other shellfish industries like edible oysters & mussels.

Plus our newly developed submerged floating modular long-line nursery system is economical, fast and easy to assemble, versatile and long-lasting, suitable for manual as well as mechanical maintenance & harvest; it also keeps the stock safe from natural predators and severe adverse weather conditions.For the first time in aquaculture history, all known giant-clam farming hurdles have been overcome and the fundamental conditions are at last favorable for economically viable sustainable & environment friendly large scale mariculture of giant clams for the Asian sea-food markets.Giant clam farming is possible in any protected tropical coastal location with good water conditions; farmed clams are also suited for reef re-population and clam gardens for low impact eco-tourism.
See hatchery & farming selection criteria here below,
contact: phildor@tmdc.info
1) Local availability of wild brood-stock of T.Crocea, T.Maxima, T.Derasa,T.Gigas and T.Squamosa, or permts to import these.
2) Easy access to clean reef/ocean water.
3) Access to power-grid & fresh water supply.
4) Suitable hatchery surface area or building elevated above Typhoon water surge tides.
5) Proximity to International airport.
6) Cost of transport to markets, frequency of air-freight.
7) Air-travel time to Asian markets (Japan, Korea, Taiwan & China).
8) Proximity to shallow and/or deep protected nursery sites.
9) Cost of local labour.
10) Costs & easy access to hardware supplies.
11) Central Government regulations; minimal red tape.
12) Support of local residents & local Gov Departments.
13) Suitable climatic conditions (tropical temperatures, rain, etc)
14) Secure and long-lasting land & sea tenure agreements.
15) Modern civil and fair Legal system
---