Current status and prospects for cultured giant clams (2010)

Antoine Teitelbaum (SPC Aquaculture Officer) & Kim Friedman (WA Senior Reef fisheries Scientist).

Studies into giant clam aquaculture initiated in the early 1980s developed the tools to mass-produce and culture all eight established species of giant clams. Altogether, 17 countries and territories of the Indo-Pacific region artificially propagated and cultured giant clams as a method for creating an export market for clam meat.

Over the past decade, the decline in production recorded after the initial phase of research is being reversed. There is now a resurgence of interest as government projects make way for private investment. Today there are more than 10 private ventures and 15 government-linked operations raising clams for the lucrative and well-established global aquarium market.

The current global production of wild and cultured giant clams is estimated at not more than 200,000 pieces per year. Traditional supply of wild live clams practissed by Vietnam, Vanuatu, Solomon Islands and Fiji Islands has decreased, with major cultured clam suppliers emerging in Tonga, Marshall Islands and Solomon Islands.

Recently, French Polynesia has developed a new aquaculture model that could see it dominate one sector of the giant clam aquarium market.

Profitable export of live products from the Pacific needs to overcome relatively high production and transport costs in an area where infrastructure is often limited. However, most Southeast Asian countries don't allow the trade of Tridacnid species, which has left small island nations in the Pacific with an excellent marketing opportunity. Furthermore, the ease of access to natural resources (brood-stock), the pristine water quality at farming sites, and the ingenuity of private enterprise should make giant clam farming a suitable activity for Pacific Island nations.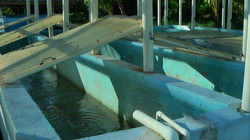 Shown here left is a good example of unsuitable hardware used in a Pohnpei hatchery; these ancient concrete raceways are 'rough-as-guts' and cleaning small juvenile clams is practically impossible without having a 'massacre' on your hands!

Concrete raceways can be suitable for the first 3 months of giant clam farming, but only if these have very smooth floor surfaces, otherwise this cost saving method becomes very expensive when it fails to deliver good results. Best size raceway is 3 - 5 m long, 1.5 m wide and 0.6 m deep with the floor being 0.25 m off the ground level so the drain does not need to be buried in.

Similar size fiber-glass raceways are sold in China for under $800 and fit 40 in a shipping container; by far the best investment or upgrade any hatchery can ever do.


Shown here above is a raceway of the Okinawa Research Centre which was producing 100.000 T.Crocea seed-clams per year to distribute to the local fishermen for replanting in the wild.
The survival rate on these reefs is about 40% and this would give 2.6 Ton of Himejako at harvest time, or about half of one percent of what the industry harvested in the seventies.
To produce Crocea clams of 8cm will take only 3 years in tropical regions, much less than it takes oyster farmers to bring their product to harvest in the Northern Hemisphere temperate zones.